Standard Pool Engineering Services
Sep 29, 2023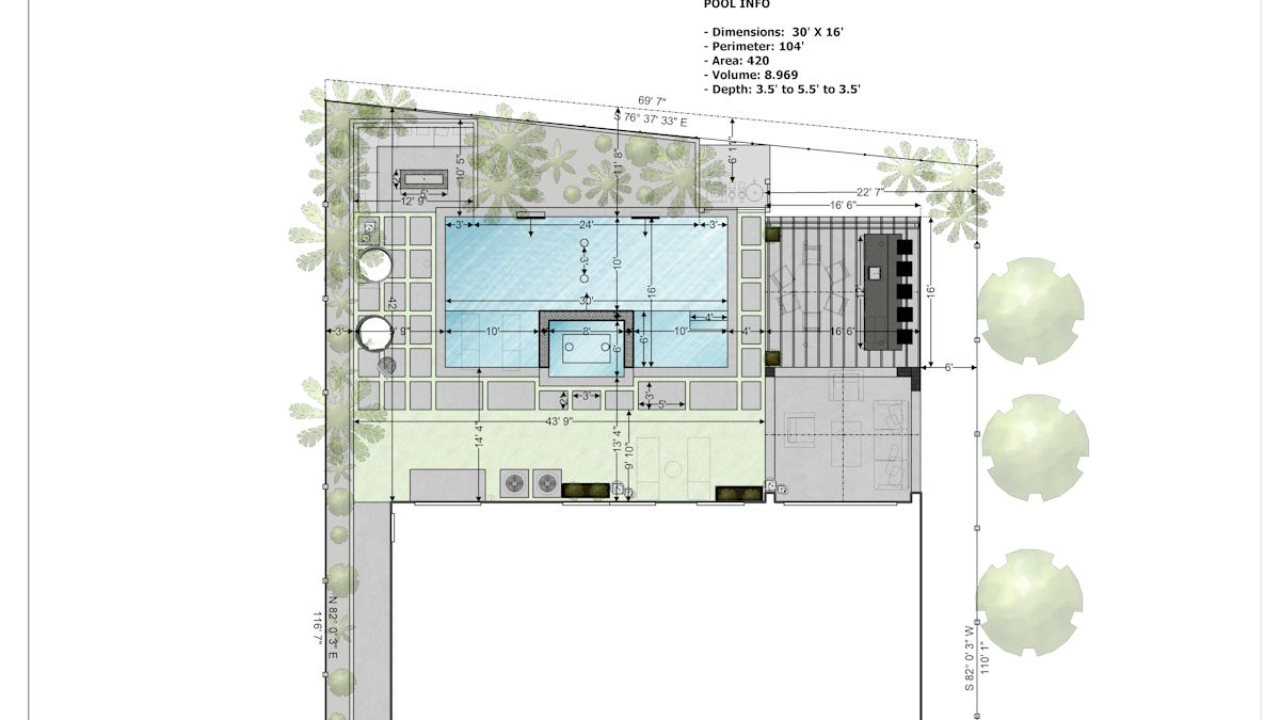 Standard structural engineering is all the basic building details meant to outline the foundation of the pool and how to form it. These plans are what determine if your pool construction will have good structural integrity or integrity that lacks longevity.
These plans include things such as the size of the rebar, space, shotcrete thickness, and the slope grade based on the depths of both the shallow and deep ends.
Since homeowners working with us are looking for unique swimming pools that will be around for many years to come, this step is very important to get right. That's why we include standard engineering in our upfront pricing, but also because every pool in every jurisdiction requires standard engineering plans.
In the several areas, there is an additional $100 fee because of the high cost of engineering in these areas. The states are as follows: FL, AL, GA, TN, NC, SC, VA, and LA
We are able to provide locally licensed pool engineering (included in our package pricing) in the following states:CA, AZ, UT, CO, NM, OR, WA, NV, TX, MA, FL, AL, GA, TN, NC, SC, ID, VA, and LA
If you are not in one of these above states, you will need to source your engineering independently
Check Out Our DIY Homebuilder Program (Save $20,000+ On Your Pool Build)
Engineering vs. Construction Plans (Term Definition)
There is a common misconception that construction plans and engineering plans are one and the same. This is not the case.
Construction plans showcase the scope of the work, line runs, structural locations, measurements, and project notes. In contrast, engineering plans are separate and pertain to the structural foundation of the pool, which is often referred to as the "pool shell."
Pool Design Ideas
We are here to design your pool according to your vision, but we also handle all those little details such as conforming the design to best construction and engineering practices to make sure there won't be any issues. If you have an HOA, we handle those requirements, as well as making sure your swimming pool meets any local building codes so that it will be approved for permits.
Your swimming pool should reflect your lifestyle and yard choices, which is why we're committed to making your concrete pool a dream come true. We will review photos of your yard so that we're 100% on board with generating a design that meets your family's lifestyle and makes the most of the available space.
Building Your Own Built-In Pool Without an Engineer
If you have no permit requirements and live in the middle of nowhere, you could probably avoid engineering. However, we still highly recommend that you build your pool to a set of standard engineering details. This is the best way to ensure structural integrity.
Considerations About Pool Location
It is a good rule of thumb to stay 7 feet away from any major structures. However, codes allow you to get as close as 5 feet.
Using your specific yard to capitalize on placement is crucial to getting the correct placement. For example, you may want to work with an already-existing upward slope to make the pool wall second as a retaining wall. Keeping the pool in the center of the yard and using the edges to capitalize on space is usually a good idea.
Another important thing to consider is focal points. Your pool is not only a massive investment that should be visible, it should be the focus. Consider the view of your pool from inside your house and from certain windows. If you have a lot of space, consider putting your pool closer to the house.
Are certain pool shapes better?
There are many ways to shape a pool. Design and preference play a real part in what works best for you. as well as the shape of your yard.
The cost of engineering does not differ depending on pool shape, but it is easier for your subs to work with a free-form pool over a straight line.
What Is Included in Your Pool Design Services and What Is Extra?
In our package, we include your pool design layout, 3D renderings, 3D video walkthroughs, permit-ready construction plans, and standard engineering plans. The only thing that is extra is if you want or require special engineering plans. This is only because those plans are an additional expense, apart from our own designing process, which means we can't include it.
What is Special Engineering?
Special engineering is a set of plans that detail the construction needs that are above and beyond standard pool detail. These types of plans are typically required for more extravagant pool additions or features that require very specific attention to detail.
For example: If a pool is being built against a slope, the wall of the pool closest to that slope will need to be built and reinforced differently than the rest of the pool because of the pressure from the slope. OR if a pool has a grotto waterfall - that grotto waterfall will need to be constructed following a specific plan detail in order to be structurally sound.
Types of Special Engineering:
The following are the most common types of special engineering:
Any up or down slopes within 10' of the pool
In-Pool Bar Stools
In-Pool Tables
Sunken Bars or Fire Pits
Vanishing/Infinity Edge (requires 2 additional sheets)
Raised Bond Beam over 36"
Expansive Soils
RimFlow
Grotto Waterfall
Rock/Custom Waterslide
Raised Bond beam 36" or higher
Art Rock Work
Pool closer than 7ft of major structure or wall
Auto Pool Cover
Acrylic Pool Wall
Column at Raised Bond Beam
Pools deeper than 8'

(if your pool is deeper than 8' you will be required to provide a soil report!)
Cost of Special Engineering
Typically, special engineering costs $500/per additional detail. However, another perk of working with us is that our engineers have agreed to special pricing for our clients. As a DIY customer, you will be able to obtain any special engineering plan for just $150/per detail!If we're staying on track with the same example from earlier and your pool has a grotto waterfall and is built near a slope, you would be charged $300 for special engineering—1 additional plan for the grotto and 1 additional plan for the slope detail.
There's no need to worry because you will not be charged for any special engineering projects without first speaking to us. We keep you up to date on all things and help you make decisions along the way.
Once the engineer is finished with your plans, they send us an invoice and we forward that invoice over to you to be paid in full. Once the payment is received we can release your engineering and permit-ready plans.
Information Your Engineers Need To Complete the Structural Plans
Everything the Engineers need should be found in your DIY Plans.
In some cases, you may be required to provide a topographical survey if there are any slopes surrounding the pool location and/or residence, or you might find yourself required to provide a soil report by a geotechnical engineer depending on the site's soil condition.
Locally Licensed Engineers
We only use locally licensed engineers, which means your engineer is dependent on your location. Regardless of where they are, we only work with the best. Each engineer we work with has been thoroughly researched before being allowed to sign on with us. Among other qualities, we search for engineers with fair pricing and quick turnarounds.
The three most widely used and nationally recognized engineers we are partnered with are Pool Engineering Inc. Lightning Engineering and Florida Engineering.
Pool Engineering Timeframes
Standard engineering is currently taking 10-15 business days from submittal of the project all the way to completion. This time frame, as well as every other timeframes, is dependent on project details and the weight of demand.
External Structures Around Pool Engineering
We only provide pool engineering. This does relate to all items related to or connecting with the pool, but we cannot provide engineering for external structures such as patio covers or cabanas. This kind of engineering must be sourced elsewhere if you want those external structures to be included in your permit-ready plans.
These kinds of plans can be obtained by a civil engineer, landscape architect, or the contractors involved with your project.
If an item on your plans is for a future build and you want to avoid engineering and permits for that external structure then you must request that structure to be removed from your plans before engineering them.
Engineering for Pool Cages and Screen Enclosures
Pool cages and screen enclosures will also require engineering. The plans for these enclosures will be provided to you by the installation company. Our pool engineers, however, will be the ones providing the footing details for the enclosure. The footing details are very important, so we need to know which screen you plan to install so that we can develop your plans and the footing according to the specifications of your pool cage.
What Is A Soil Report, and Where Can I Get One
First off, understand that 98% of all pool projects do not require a soil report. However, we do encourage all of our DIY clients to check in with their local building department to determine if a soil report is necessary or not.
A soil report is a summary of a geotechnical investigation. This kind of investigation includes a soil engineer going out to your property and obtaining a sample of the soil in the area where you propose building your swimming pool. Analyzing the soil comes next, then providing a report detailing the conditions of the soil beneath the surface. The outcome of this report may affect your structural plans.
A licensed geotechnical engineer or most civil engineers can obtain a soil report. Call around and receive a few bids, as some services may cost more than others.
Can I fix my cracked pool by myself?
No. You should not ever.
Surface cracks typically don't require more than a little resurfacing, but they indicate that there is a deeper foundation issue. This usually happens to older pools that were not built with modern-day engineering plans which is another reason it's crucial to work with an engineer even if it isn't technically required in your area. If your pool is built to modern-day engineering plans, it will never crack, leak, or have any foundational issues.