DIY Backyard Pool Ideas (How To Save $20,000)
Aug 23, 2023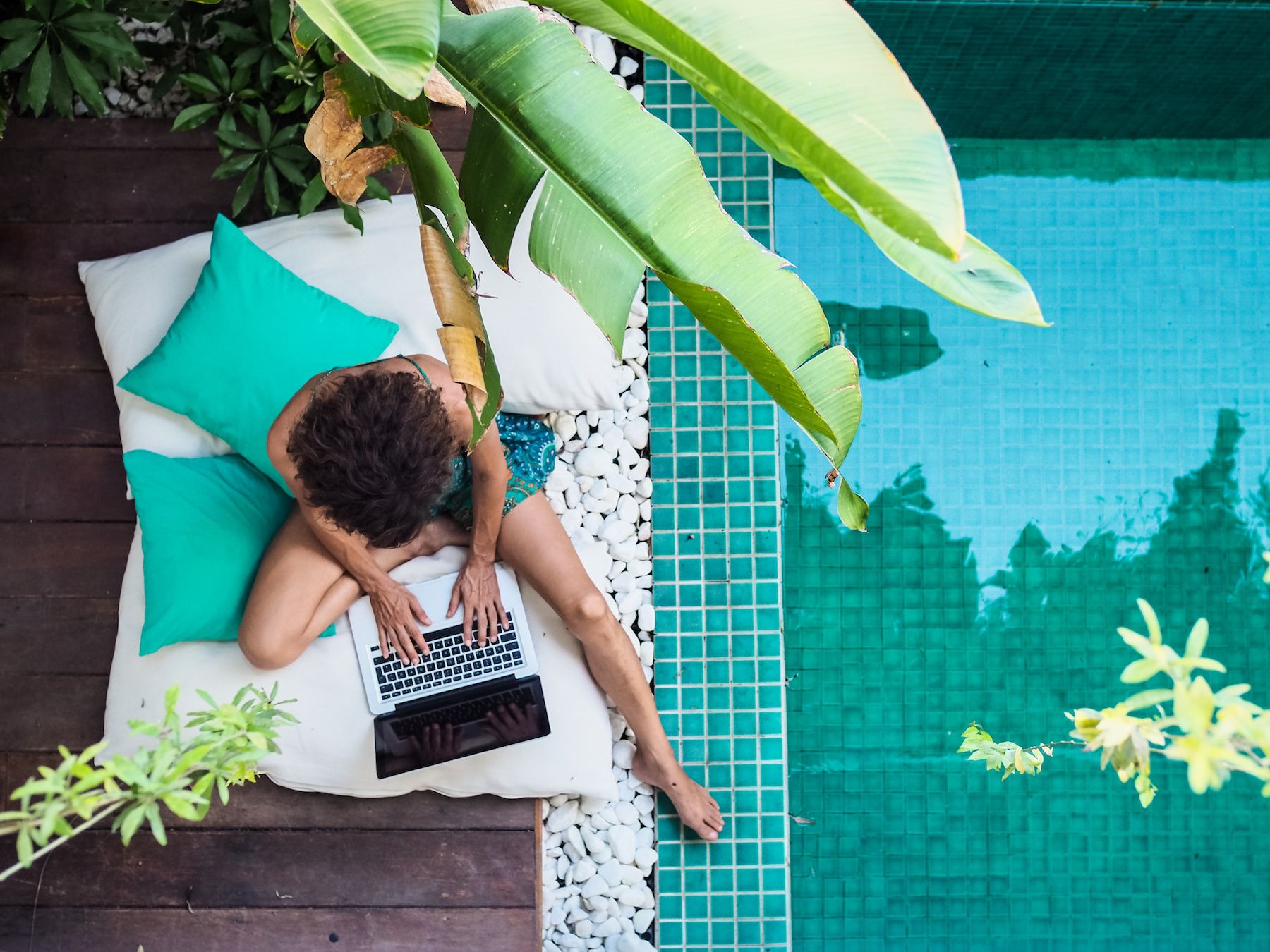 Having a backyard swimming pool offers a range of benefits that enhance personal relationships, summertime fun, and property value. It is the perfect environment for any kind of recreation, providing a private space for family gatherings, pool parties, and leisurely get-togethers. The pool area is a natural gathering spot for family and friends, transforming it into an aesthetically appealing venue without the homeowner having to lift a finger
The pool's tranquil setting encourages relaxation. From the soothing sound of water to the gentle rippling movements, your family can bond without fear of strangers or inconvenient pool hours ruining your time together.
On a warm summer day, you don't have to leave your home to cool down. Having your own DIY swimming pool makes learning to swim more accessible, benefiting the whole family!
See Also: How You Can Save $20,000 Building A Backyard Pool
What is a Homemade Pool?
When you hear the words "homemade pool" " or DIY swimming pools" your first thought may be a stock tank pool or a shipping container pool.
While these kinds of pools aren't bad, it's not what we mean. Our company, DIY Pools and Spas, uses 40+ years of pool-making experience to help you create your dream inground swimming pool. They are often higher quality than any package you would purchase with a company and they're never created from a mold. Going DIY means you get to create your very own backyard pool, bringing your unique vision to life.
Is a Homemade Pool Worth it?
Having a DIY swimming pool can sound intimidating, but by working with us, you can follow a step-by-step plan that makes it easy while saving thousands of dollars. You get your dream pool realized, improve your property value, create a place for your family to hand out and install a swimming pool that will last a lifetime.
The short answer is "Yes!" It is so worth it to DIY your backyard pool.
What Are the Types of Backyard Pools?
There are many types of pools suited for a backyard. Let's go over a compact list with some key points.
In-Ground Pools:

Concrete (Gunite or Shotcrete) Pools:

These pools are deservedly known for their longevity. Because there is no premade aspect, they can be easily customized in terms of size, shape, and features.

Fiberglass Pools:

These pre-manufactured pools are made of fiberglass-reinforced plastic and are installed as a single, non-porous shell.

Vinyl Liner Pools:

These pools consist of a steel or polymer framework covered by a vinyl pool liner. This style is popular because of how easily the liners can be replaced.
Above-Ground Pools:

These pools are installed on top of the ground. While they are often more affordable and easier to install than in-ground pools, you sacrifice endurance and quality by choosing an above-ground swimming pool over an in-ground pool.
Plunge Pools:

Plunge pools are small, shallow pools designed for quick cooling off and not so much for swimming. They are often used in smaller yards or as a feature in gardens.
Natural Pools:

Natural pools, also known as swimming ponds, use biological filters and plants to maintain water quality instead of traditional chemicals. They create a more eco-friendly swimming environment but are hard to maintain.
Saltwater Pools:

These pools use a salt chlorination system to generate chlorine from salt in the water. Saltwater pools are much easier on the skin and eyes than traditional pools that use harsher chemicals.
Hot Tubs and Spas:

A hot tub or backyard spa is not typically very large, but these options offer warm, relaxing water often used for therapeutic purposes and/or simple enjoyment.
Benefits of Getting an Inground Pool
1. A Place For Family
We've seen through personal experience just how much a pool can bring a family together. The environment it creates generates intimacy, joy, and memories that will influence the family for their entire lifetimes.
The backyard pool is perfect for spontaneous bonding time or get-togethers.
2. Improve Home Value
Not every kind of pool increases the home value, but in-ground pools do. They appeal to a wide range of buyers, making the entire property more desirable and easier to sell.
In-ground pools that have special features and are well-maintained are very eye-catching on the market. If you're in a neighborhood with multiple houses selling simultaneously, it will be the pool that sets your house apart from the others.
3. More Aesthetically Appealing
In-ground pools integrate seamlessly into your landscaping. Instead of sticking out, needing extra construction such as stairs, ladders, a wooden deck, and so on, and filling up the visual space in your backyard, you have a low profile, unique-to-you pool that's effortlessly stunning.
On top of that, they're so customizable that you're getting your dream brought to life. From the shape to lighting, landscaping, materials, and anything else you can think of, in-ground pools offer it all.
4. Transform Your Backyard into an Oasis
Most homeowners looking to install a pool aren't just seeking a place to swim. They want a destination. A vacation without leaving their home, if you will. A lavish, well-installed inground pool is the perfect way to accomplish this. Your backyard becomes transformed into a venue for events, a relaxing world of your own, a destination for friends and family members, and anything else you want it to be.
People with a pool in their backyard find hosting events easy, stress-free, and gorgeous. The oasis out your back door is brimming with life that shouts your personality and welcomes your guests for you.
5. You Can Enhance an Inground Pool with Features
Unlike other pools, inground pools can be customized until your heart is content. Adding extra features is one of the ways pool owners love to enhance their pools.
Here are some popular feature choices:
Tanning ledges and/or chairs
Water features such as fountains, jets, bubblers, etc.
Disappearing/Infinity edge
Waterfalls or caves/caverns
Special pool lighting
Rock walls
Attached (or detached) spa
6. More Durable
Inground pools, specifically our concrete pools, last a lifetime. The nature of the materials used and the construction involved lend the pools to long-lasting durability. There are no liners to replace or holes that make you worry about water being where it shouldn't be. Regular maintenance is all these pools need to last as long as you like.
Drawbacks of Getting an Above-Ground Pool
1. Lowers Property Value
Many above-ground pools will add nothing to your home value, but others will actually detract from the value. Above-ground pools are temporary and often an undesirable eye-sore when trying to sell or maintain a house. They're seen as a nuisance, often something that has to be dealt with rather than enjoyed.
2. Fail Quickly
As stated above, these kinds of pools are temporary at best. At worst, they're constructed from a mold and a multitude of things could go wrong causing damage to your yard, home, and more. With regular maintenance, you may get ten years out of a higher-end pool.
3. Raise Home Insurance
Installing an above-ground pool means there is more risk to your home, which means the insurance company will be requiring more from you.
4. Limited Options
These kinds of pools come from manufacturers with a few molds. As far as shape, extra features, colors, and so on, you are very limited in what you can get. Above-ground pools are not comparable to inground pools.
Challenges of a Natural Swimming Pool
Can attract unwanted wildlife
A natural pool is a small ecosystem. Because of the very nature of these pools, you are going to attract wildlife, especially but not limited to birds, frogs, snakes, turtles, and insects.
Because wildlife comes, you will sometimes have to deal with something that has died. It's not terribly common to find yourself in this situation, but it does, unfortunately, happen sometimes.
The occasional wildlife may not be a big deal to some, but people with allergies to animals or nature may not be so eager. Your water is also contaminated by this wildlife, so allergies should be a very real consideration when talking about installing a natural pool.
Expensive and difficult to install
Once you get everything installed maintenance isn't very expensive, but it's the installation that you have to worry about. These pools begin expensive and tricky, but your design, your vision, your landscape, all these things can quickly jack up the price. Size, shape, what plants and how many, and location all become tricky to balance with the price tag.
Difficult to control Algae and Maintain a Pleasant Swimming Experience
A lot of people researching natural swimming pools are drawn to them by the reduced chemicals. However, what this research often doesn't show is how these pools are more prone to algae than others. Every pool grows algae, it's unavoidable, but natural pools are by far the hardest to keep algae away from. After a few seasons of frustration fighting off murky water and wildlife problems, a lot of these pools are abandoned to become regular old ponds, forgotten and unattended.
Consider a saltwater pool as an alternative to a natural pool or a standard chlorine pool. Saltwater pools are easy on the skin and eyes, there's little to no chemical smell, have a lower maintenance cost.
Should I Get a Backyard Pool?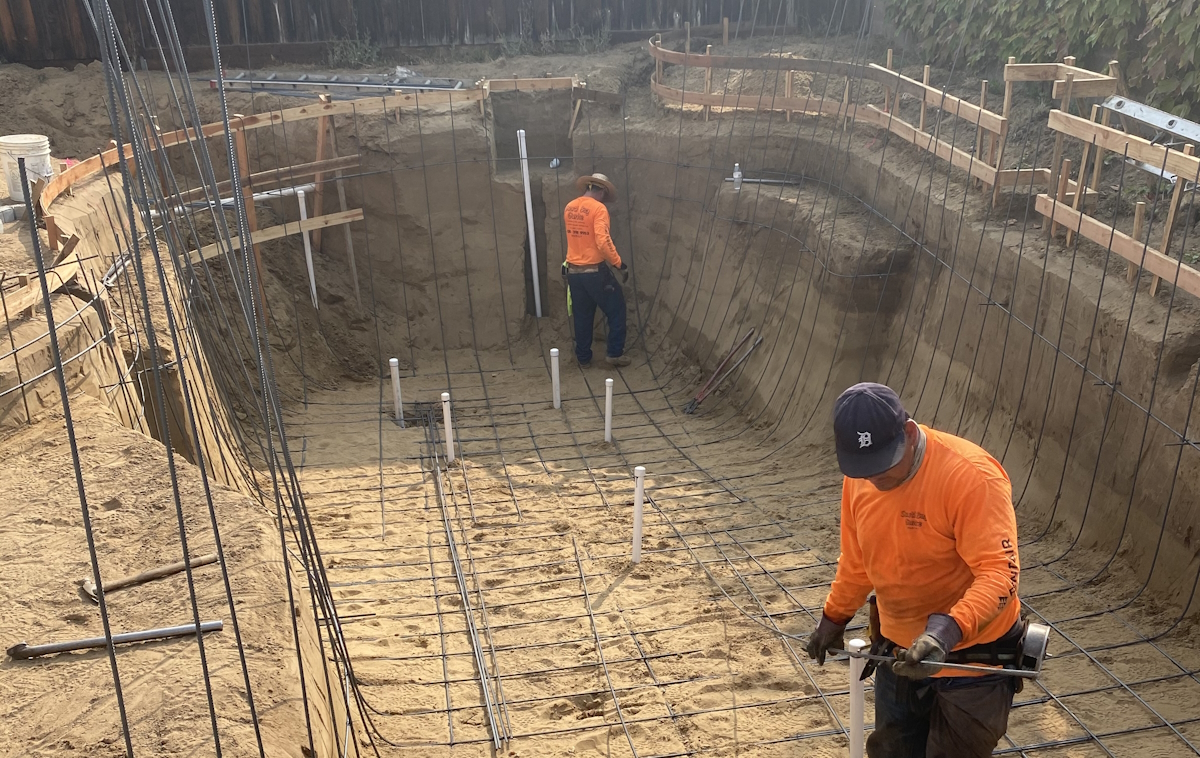 There are lots of things to consider before just diving in and making the decision. Health, aesthetics, lifestyle, etc...
Consider your climate. Is it very cool year-round?
What kind of backyard do you have? Is it very small? Is a pool something you would want to spend space on?
Do you have children and pets? Their safety is important. Many families with small children and pets get pools, but your specific situation may not match another very well.
Ultimately, the decision to get a backyard pool needs to align with your preferences, financial capacity, and willingness to commit to maintenance. Research is going to be crucial. Pros and cons from articles such as this one, personal accounts from friends and family, and, if possible, consultations with professionals can all be lifesavers when it comes to choosing what is right for your family.
Conclusion
To summarize, we very strongly don't recommend above-ground pools. They sound appealing, yes, but they won't serve you well in the long run.
We've spent many years working in the pool business and we've seen how some pools last and others don't. That's why we've chosen to commit ourselves to the best of the best by helping you create the pool of your dream with stellar quality. Your family is important to us. Your home, visions, and comfort are all important to us.
When you work with us, you are signing on with a group of people dedicated to making your experience the best it can possibly be.