Do You Want To Save $20k On Your Dream Pool?
We make

DIY
pool construction easy and affordable
No Overpriced Builders
No Long Wait Times
No Nonsense
We help families build quality
swimming pools for less
How Does It Work?
Pool companies don't actually build pools!
They hire and schedule subcontractors to build your pool at a premium price tag.
Here is the secret

→
You can get your pool built wholesale by side-stepping the pool company and hiring subs directly.
Here is how

→
Our Homeowner Builder Program gives you all the resources, support, and guidance you need to cut out the middle man and save thousands on your dream yard.
Using our pool cost calculator is easy
Simply enter your info below then select the pool options that match
your vision and see the cost results.
Your information is safe with us and will never be shared or spammed
Hey there!
Meet Our Family.
After 40+ years in the traditional pool building business, our family decided to change the way pools are built.
We created the first ever pool company to help homeowners build their own pool - Saving them thousands of dollars. We started DIY Pools and Spas to give families a better and more affordable alternative to hiring a pool company.
We are confident that as a DIY pool builder, you will get more for your money, build faster, and have the pool of your dreams.
More About Us
"This program made our dream come true! We were able to save a significant amount of money on our project which allowed us to make upgrades we didn't think we could afford. We were able to complete our backyard transformation in 3 short months."
- Ryan Peterson
"This is real! 5 stars. I received multiple estimates for my pool. Each one was over $70,000. In total, I spent $43,000. That is $27,000 in savings!"
- M.Hisaw
"The team at DIY Pools and Spas have been great and very responsive when I had questions. We are currently moving into our last phase of the construction, with just the plaster remaining and we have spent just over $50K. I fully expect to come in close to $20K below what was our lowest bid."
- Brian Smith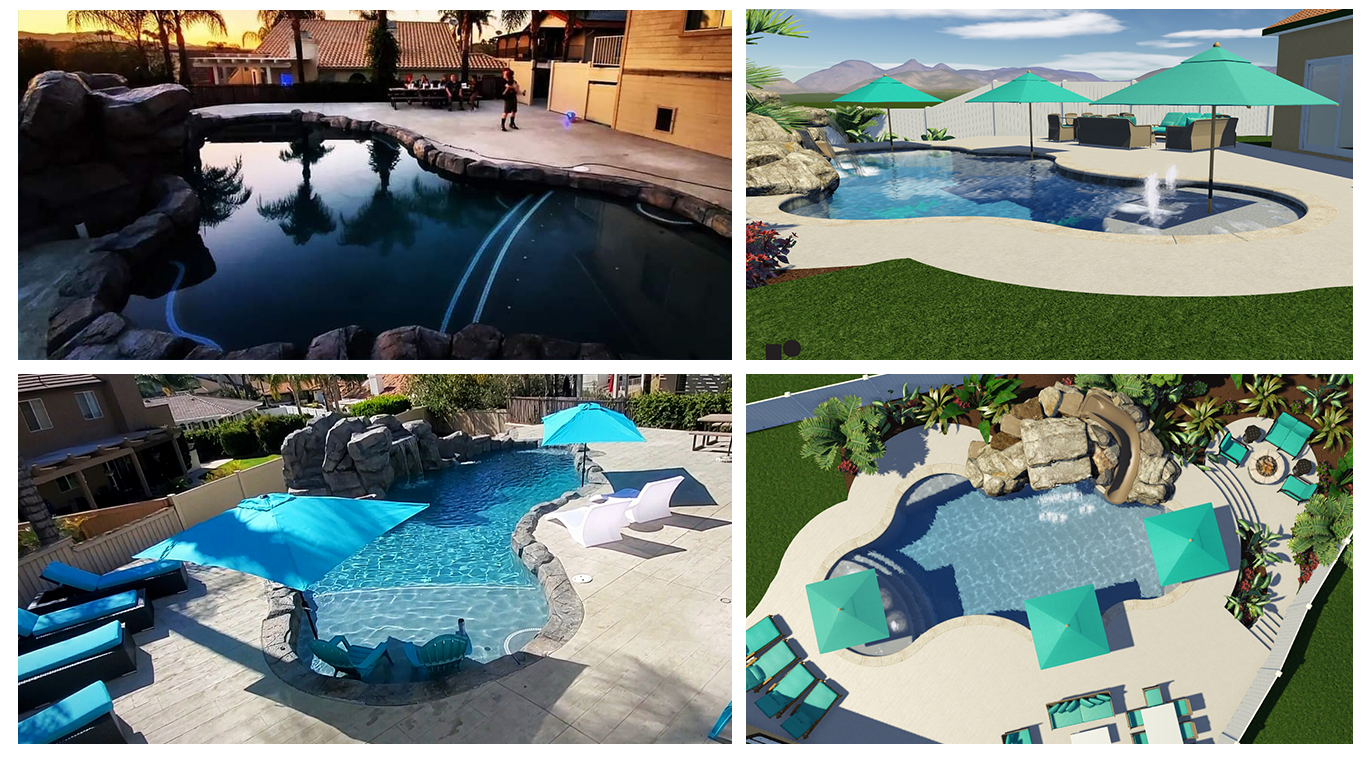 "I used DIY Pools and Spas to design my pool and engineering plans for me. My backyard oasis came out amazing and I saved $75,000 doing Owner Build over what local Pool Builders were quoting me."
- Cara Agundez
We Make It Easy

We Guide You Every Step Of The Way & Give You All The Resources You Need
Design & Plans
We take care of the design, construction plans and engineering. Our 3D rendered designs will bring your dream yard to life. All our plans are H.O.A. & permit ready
Subs & Equipment
We help you obtain all the subcontractors you need, review their bids and help you to manage them. We also give you access to all of your pool equipment at a wholesale cost.
Construction
Lean on our 40+ years of pool building experience as we guide you through construction smoothly and easily with video guides, checklists, and personal consulting.
Want To Learn More?
Click below to check out the 5 step process of working with us
DIY Pool Made Easy
It's summertime and the perfect time to swim at the pool. Whether you want some exercise, wish to bond with your children, or want to get some sun, a swimming pool is perfect for this.
However, a public swimming pool can be pricey, have hours that are inconvenient to your schedule, and, most importantly, it just doesn't cultivate the kind of atmosphere that brings the entire family together and makes lasting memories. Similarly, the above-ground swimming pool that you found for a few hundred dollars, isn't doing the trick.
This is why you need to turn to the DIY backyard swimming pool.
Anybody can handle a DIY, above-ground pool, but have you considered something more luxurious? More attuned to your tastes? Having your own backyard pool that's not an inflatable feels out of the budget, a lot of times.
Thankfully, we're here. Because of our services, you can save over $20,000 with our DIY pool program and have your own pool tailored to fit the needs of you and your family.
What is a DIY Pool and DIY Pool Design?
Our program is designed to help you be your own project manager. By handling the project yourself (with our unlimited consulting and resources), you save thousands. The pool market is saturated with companies wanting to make a nice profit off of your inexperience.
Here's the thing, you don't have to have any experience in construction, pools, or anything else to DIY your pool. You don't even have to have seen a pool pump in your lifetime! We make it easy and time efficient to achieve your dream pool.
Without our program, you can either overpay for a pool, or settle on a rustic shipping container pool, or stock tank pool. Our goal is to close the gap in pool costs and help our customers get a pool that truly adds value and quality of life to their family. 
Part of the appeal of DIY'ing your pool is creating a backyard pool that is personal, yet affordable.
Frequently Asked Questions
Is a Backyard Pool Worth it?
What Type of Pool Should I Get?
How Can DIY Pools and Spas Help Me Build My Dream Backyard Pool?
How Long Does the Process of Building a DIY Pool Take?
Isn't A Pool Too Astronomically Expensive To Consider?
How is This Product/Service a Solution?
Have A Question?
Here are some ways to connect with us
→ Join Our Facebook Group: Inside our group we are actively answering questions and providing tons of great resources for those planning their pool project.
→ Schedule A Consultation: Schedule a free 30min consult call with our team. These no pressure calls will help give you direction and answer your questions.
→Click that that little bubble: Chat with our team quickly by clicking that little bubble in the bottom right corner.
Join Our Facebook Group