Are There Cheap Pool Options For Home Owners?
Oct 18, 2023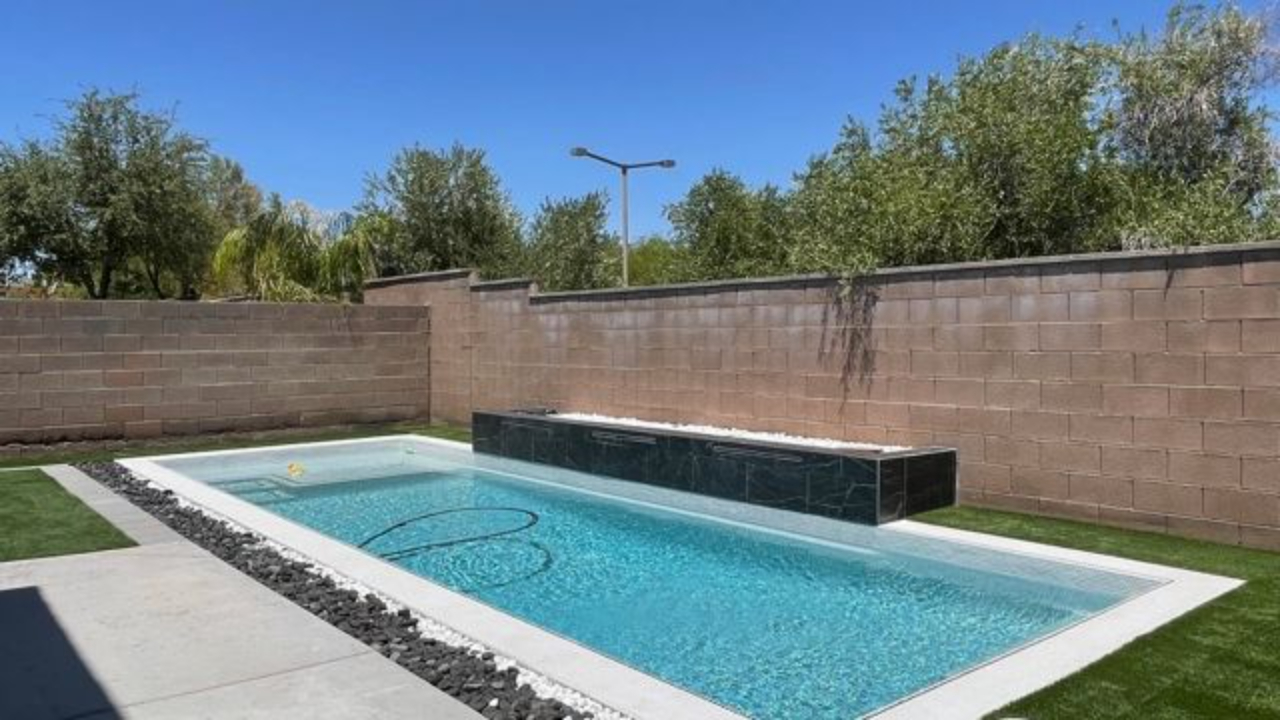 You are shopping for a cheap pool for your kids, and you've already looked at stock tanks, inflatable pools and natural pools.
As in-ground pools are becoming more and more affordable, their popularity is on the rise as well. We're moving towards the day when every family can have the backyard pool of their dreams!
Money is hardly ever not a factor. At DIY Pools and Spas, we are dedicated to creating swimming pools that are accessible to a wider range of budgets. Because of our dedication and 40+ years of experience in the swimming pool business, we regularly save clients over $20,000 on their pool projects compared to other pool builders. Our program grants you access to the cheapest inground pools you could dream of!
Since we specialize in affordable pools, let's discuss some ways to save money on your swimming pool build.
What is the Average Cost of an Inground Pool?
On average, an inground, concrete pool is going to run you around 40-50 thousand dollars as a DIY pool builder. There are many ways you can make that price tag go up and down. (See our full conversation on pool costs)
When working with a budget, it's important to know what your options are so that your priorities match your capabilities. Following this paragraph are some backyard pool ideas on a budget.
What are Some Less Expensive Options for an Inground Pool?
Go On the Small Side
Choosing a small inground pool is among your best options for saving money. Simply because of the decrease in size, small pools are more affordable. They require less excavation, less space, and less materials.
There are loads of beautiful, small pool ideas. A plunge pool, for example, is a small, in-ground pool that normally measures 8 to 12 feet wide and anywhere from 12 to 24 feet long. They aren't lap pools, by any means, but they're excellent for cooling off or bathing in the sun. There are different materials available for plunge pools, ranging from concrete to fiberglass pools.
You can get a small cocktail pool built for just $30,000 as a DIY Pool Builder.
Consider the Depth and Style
The fancier the pool, the more it will cost. There are several reasons for this including additional features, complicated designs and plans, more equipment, and so on.
Anything non-standard costs more in terms of style. Something like a natural pool, container pool, semi-inground pool, or adding on a pool deck automatically up the price.
The depth of the pool also plays a part in the cost. The deeper the pool, the more materials required to fill it out.
Water Type
Chlorine pools cost more to maintain than saltwater pools. The lifetime costs are much higher for chlorine pool due to the ever increasing cost of chlorine, water test kits, service reps, and the inevitable resurfacing of your pool due to chemical erosion. For a long lasting pool with little maintenance costs we recommend saltwater pools. Saltwater pools are a better option for the longevity of your pool surface materials, cost only about $30/year to maintain with a bag of salt, regulate themselves so require no personal maintenance, and they are a healthier and safer water alternative for you and your family.
Cut Out Additional Features for Now
There are lots of fancy features that you can add to your in-ground pools. Slides, underwater lights, diving boards, and waterfalls, for example, all are fantastic, but they also raise installation costs by quite a bit. A water feature that may not seem like much but can be tricky to include on a budget, but a simple ad-on like a tanning shelf costs very little. We can consult with you on the costs for additional features and let you know what will work best with your budget.
When considering upgrades our DIY Pool design team will work with your ideas and budget in mind. If you're looking for an in-ground pool, don't let a designer try to sell you on above-ground pools just so that you "meet the budget." Find someone who will work with you to accomplish your dreams.
Choose the Company You Go Through Wisely
Different companies vary widely in prices. Each pool builder company will require different things from you and include different things in their offer.
What are Some Budget-Friendly Inground Pool Options?
Materials are a big part of what the pool costs, so it's important to know what you're asking for.
How Much Does a Vinyl Liner Pool Cost?
Vinyl liner pools are the cheapest, often starting at $30,000. You'll have more issues with vinly inground pools than anything else as the material isn't very durable and you'll need to replace it sooner rather than later.
How Much Does a Fiberglass Pool Cost?
Fiberglass pools are another affordable option but they just aren't as durable as gunite. We specialize in gunite because it is the best option for durability, affordability, and reliability. However we do also work with fiberglass pools should you choose this route. Fiberglass pools typically start at around 45k and go up from there.
How Cheap is a Gunite Pool?
Gunite may be a little more on the expensive side, but as previously stated, there is no match for it in terms of strength and ease of upkeep. A standard Gunite pool (15' x 30') will begin at $40,000 and go up from there.
What Pool Type is the Cheapest?
Inground Pools
In-ground pools aren't the cheapest, but we at DIY Pools and Spas make them affordable. It's our specialty to save tens of thousands of dollars and bring your vision to life at the same time. In-ground pools can't be matched for durability.
They also are the only option that increases your home's value. Our system usually gives you instant equity in your home.
Above Ground Pool
Now, above-ground pools are appealing because they have a low initial cost. However, they don't last long and require a lot of upkeep.
Inflatable pools are another poor option that seems nice at first but they just turn out to be more pain than enjoyment.
The challenge with an above ground pool is that it does not last very long, and it lowers your home's value. For most of us, our home is our largest investment, and we don't want to do anything to jeopardize that.
Stock Tank Pool
These are really neat, durable, and cheap. However, they're quite small and less than ideal.
They also are very prone to developing leaks, and they look quite ugly. Back to what we were saying about home value depreciation.
Are Cheap Pools Poor Quality?
Not always. We already mentioned above-ground pools as an option many people consider for their low price tag, but what if you could have a stunning, personalized, in-ground pool for not much more?
We help you save tens of thousands of dollars on your build because we help you build at wholesale and our designs are specifically tailored to your vision and budget. When you work with pool companies, they're often managing multiple projects at once and taking a nice slice of profit to do the same job you could do in as little as eight weeks.
Are Inground Pool Kits Worth It?
The answer is simple: no, they are not worth it. They may be cheap, but they break up very easily. Their skins are thin and hard to manage, plus, they won't provide you the years of enjoyment that other avenues will. We do not recommend using pool kits of any kind.
Can I Make My Own Inground Pool?
You certainly can! It's kind of tricky to do on your own with no direction, but that's where we come in.
What's a Good Company to Go Through To Build Your Own Pool?
At DIY Pools and Spas, you will be taking your vision into your own hands. We help you build your own pool for many thousands of dollars less than other quotes you've likely received, plus we do it several weeks quicker! We don't just see your project as a means to an end. We've spent 40+ years in the pool business and we have seen firsthand how closely pools bring families together. Pools, to us, are a way to strengthen relationships and improve your life overall. That's why we're so passionate about working with you and for you to bring your dream to life.
How Do We Compare to Others?
While standard pool companies are using your funds to finance each step and taking a profit off of each one, DIY Pools and Spas help you cut out that middleman. By working with us, you have access to direct trades and equipment, which means you're building at cost. The designs are personal to you, your family, and your yard, making them one-of-a-kind, and not the same cookie-cutter designs you see on every other website out there.
Since you are effectively the project manager of your pool build, there aren't several projects you need to spread your time between. This is why we see your pool built in record time! This process also allows you to pay incredible attention to detail. Working with us gets you informed and educated so that you are equipped to go after what you want.
How Much Do We Cost?
At DIY Pools and Spas, one of our main concerns is getting you the perfect pool on a budget. Our entire Homeowner Builder Program (the most expensive package) only costs $3,200 and will save you more than $20,000! In fact, we're so sure of saving you a minimum of 10k that we offer a full money-back guarantee if we don't fulfill that promise.
An added perk of working with us is that we help you get all the permits in order. This is probably one of the most daunting tasks for homeowners looking to build their own pools. It can be tricky figuring out all the requirements, codes, and papers to sign, but don't worry. Our plans come permit-ready and we make the process simple for you.
What Packages Are Available?
We offer our packages nationwide.
Homeowner Builder Program
Our Homeowner Builder Program is the all-inclusive, worry-free package. Here's what it includes:
Personal Consulting and Support
You are not walking through this new and somewhat daunting world on your own. We are here to support you with clear direction, consulting, and regular check-ins.
3D Rendered Design
This includes a to-scale 3D image of your dream yard with a video walkthrough. Our design team makes it easy to visualize your pool in your backyard. These designs take into account the surrounding area, house, and landscaping so that nothing is left to the imagination.
Permit Ready Construction Plans
Our complete construction plans come 100% permit-ready so that there are no issues following through with gaining the necessary permits.
Engineering Plans
We work with licensed pool/spa engineers in the following states: CA, AZ, UT, CO, NM, OR, WA, NV, TX, MA, FL, AL, GA, TN, NC, SC
Outside of those states, you will need to source your own engineer, but don't fret too much because we will still be beside you through that process, helping you pick an engineer who is reputable and dedicated to your project.
Video Guided Program
The step-by-step videos that walk you through each phase of construction are incredibly valuable. They're so detailed that you won't miss a thing during the entire process!
Construction Check Lists
Our checklists keep you and your sub-contractors in alignment with industry standards and best practices, but they also help you feel confident about what should be getting done.
Sub Assistance
We help you find your subcontractors, and review their bids to ensure accurate pricing. In fact, we have lists of subcontractors that we trust and have worked with before. These lists make everything very easy and comfortable.
Wholesale Equipment Costs
Working with us gets you access to wholesale costs on top-of-the-line pool equipment. It's just another way you can feel confident that your pool is top-tier.
Custom Design Package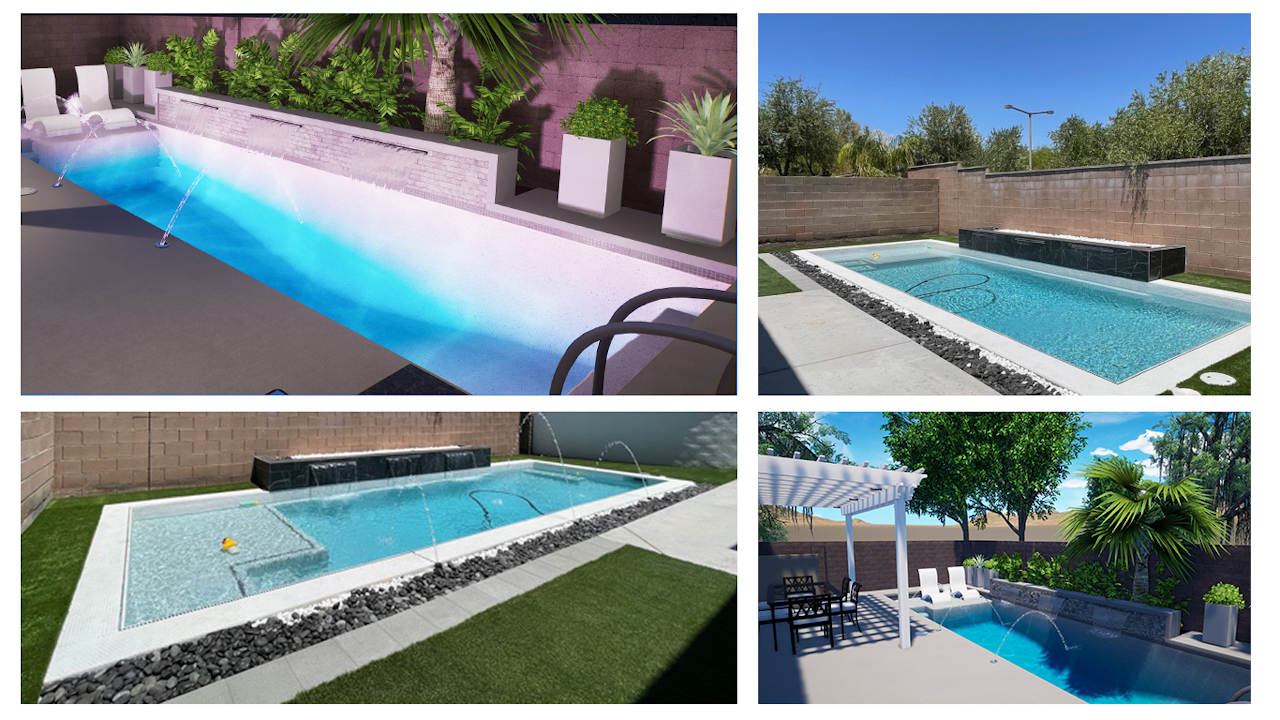 This package is best for those who are ready to secure permits or get started with the construction phase. This includes:
Professional To-Scale Design
All your wants and needs are taken into account and compiled into the perfect pool for you and your family.
3D Rendered Photos
These high-quality photos are perfect for seeing the endgame. They make feeling confident in your decision easy!
3D Video Walkthrough
If you were still on the fence about your design, the video walkthrough will ease any of your worries. From the aerial view to the daytime and nighttime shots, you'll be able to see what your pool will look like from every angle and every time of day.
Permit Ready Construction Plans
Once again, these are the plans that make everything else easy. They've been called the most detailed plans on the market!
Standard Engineering Plans
With these plans included, you don't have to worry about what's necessary or if the engineer you're working with is including all the details. We've got you covered!
Pool Equipment Recommendations
As with everything ever made, there are so many options when it comes to pool equipment. How do you know you're getting something of the highest quality or if it's a dupe? We have heavily researched this field of information and have prepped a list of recommendations that you can trust. With our decades of pool experience backing us, you can be sure that what you're getting is a reputable option.
Sign Up For Your Free Webinar Today!
Join us this FRIDAY to learn more about how you can save $20k+ on your dream pool.
Can't make it Friday? Register anyway and we'll send you a replay.