Building A DIY Inground Swimming Pool
Oct 18, 2023
At DIY Pools and Spas, we're a nationwide business run and motivated by family. During our 40+ years in the traditional pool business, we have seen first-hand how inground pools can bring a family closer together.
Some people are still wary of DIY inground swimming pools, but they're quickly becoming the new normal because of how affordable and customizable they are. Whereas a standard pool company might charge you an exorbitant amount for one of their few pre-designed options, our DIY Homeowner Builder Program gets you the custom swimming pool of your dreams while saving you $20,000 or more.
We do not use DIY inground pool kits because we use an inground pool construction process that will actually last you a lifetime and get you what you want.
We're in the business of bringing people together without breaking the bank or adding a lot of stress. Here's how you do it:
Choose Location
Putting in your own inground swimming pool can sound overwhelming at first, but we're with you every step of the way to show you that it's not as complicated as it seems. Choosing the location comes with a few stipulations but it's mostly up to you.
Before setting your heart on any one location, you can check with your city's zoning requirements to see if, for example, the pool needs to be a certain number of feet away from the home or any structures.
Take into account the external conditions. Open areas are best and require less demolition, but you may also want a little bit of shade so that the summer heat isn't so hard on you or your pool.
Also, consider the aesthetic of your placement. One of the joys of doing your own DIY swimming pool is that you can customize it as much as you want. Make sure that the pool compliments your outdoor space and works with the aesthetic of your house and yard. From a simple rectangular shape to more intricate pools, the placement will make a big difference in your backyard space, so it's crucial to view the big picture.
Design
As a part of our package, you'll get to work with a designer who will produce a 3D design. You don't have to worry about where or how to hire professionals because we come with the job!
Since all DIY projects are individual to the homeowner, the designer must be as well. Each specific need is prioritized, whether that's staying on a strict budget, adding several extra features, or all of the above! Our designs bring your vision to life.
Excavate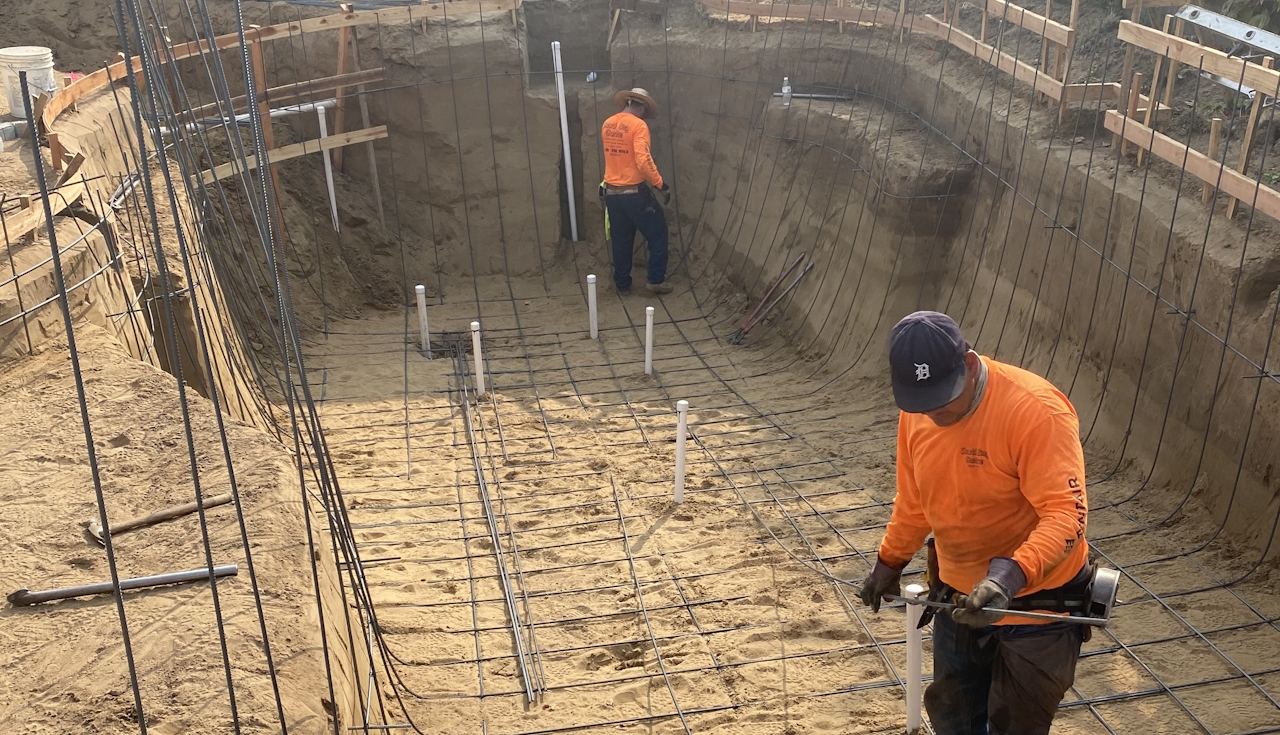 Excavation is where a hole gets dug in the ground. At this point, all the plans have been finalized, subcontractors hired out, and contracts signed.
Build
The pool construction process is an exciting thing to watch. When the pool equipment comes in and you actually see the pool shell begin to take shape, it's a thrilling sight!
Don't stress about where to find contractors because that's a huge part of why we're here. We have lists of contractors that we've worked with for years and we would entrust any job to them.
Enjoy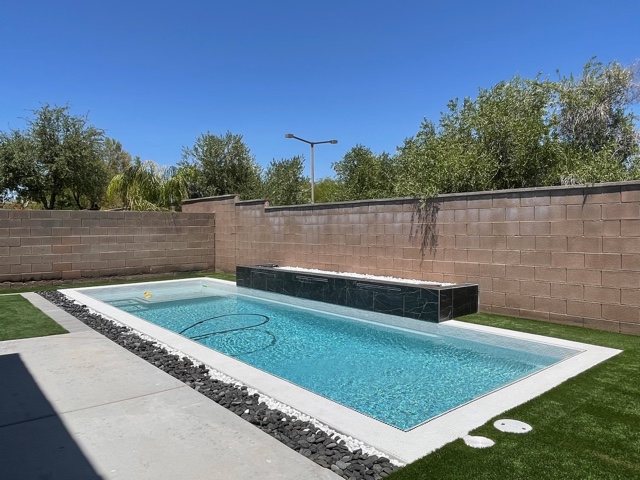 As mentioned before, we're about bringing families closer together. That's why we do what we do. When you have your own pool, you have a place that will generate memories for a lifetime. It's so much more than just a body of water or an aesthetic decision. It's a venue for hosting, a calming atmosphere to relax in, a conversation starter, a way to deepen relationships... the list goes on.
How Much Does it Cost to Build a DIY Inground Pool?
There is a wide range of answers to this question, mostly depending on the size of the pool, location, and so on.
Regardless of what pool you want, working with our company will save you at least $20,000 minimum in comparison to standard pool companies, plus, it gets done a lot quicker. While our process takes 6-10 weeks, standard companies need at least 10-20 weeks. This is partially due to the fact that working with us, you are your own contractor. You are effectively cutting out the middle man and taking matters into your own hands. This means there's no backlog of orders or priority list.
Should I Get a DIY Inground Pool Kit?
We do not recommend getting pool kits of any kind because they don't last nearly as long as other pools and since our process is so easy and affordable, it's worth it to take a little bit of extra time and do it right.
What is the Best Material to Build An Inground Pool From?
Gunite and/or shotcrete is the best material. It's strong, durable (it will stand up to a lifetime of wear and tear!), and can be conformed to nearly any shape.
Fiberglass pools are also popular because they're known for being algae-resistant, but they simply won't last as long as gunite pools will. The fiberglass pool shell option is also not nearly as customizable as gunite.
What is Best: Above Ground Swimming Pool or Inground Swimming Pool?
The needs of the whole family must be considered when choosing between an in-ground pool or an above-ground pool, but we recommend inground pools, and here are a few reasons why:
Appearance
Above-ground pools are often referred to as "eyesores" by homeowners. they block out the view from your back windows and the elements make them more unseemly by the day. Inground pools are beautiful and appealing to nearly everybody.
Cost
You may hear the argument made that above-ground pools cost less, but that's only initially. When you consider the cost of upkeep, and equipment, as well as replacing the pool itself before too long, you'll see that inground pools are more affordable in the long run. That means that installing an inground pool isn't just a way to beautify your life and grow your family, it's a way to save money!
Style
Above-ground pools are basically one style. There isn't much you can do with them. You can add a wooden deck and make it a little more appealing or unique, but there's still basically only one pool style.
Inground pools, however, are delightfully custom, especially when you work with us and save 20k. We work with your specific yard and house aesthetic, as well as taking into consideration the surrounding landscape such as vegetation and lighting. Above-ground pools simply don't have the same options as inground pools. Underwater lights are just one example of a feature that inground pools can have that above-ground pools cannot.
Material
Above-ground pools are vinyl, which means they wear easily, especially since 100% of the pool is always exposed to the elements.
As mentioned above, inground swimming pools are made with gunite that will last decades with very few potential problems.
Durability
Above-ground pools are only expected to last somewhere between 7 and 15 years with the proper maintenance. On the other hand, inground pools will last as long as you care for them. The pool will need to be resurfaced every so often, but that's affordable and easily done.
Learn how you can save over $20k on your dream pool THIS FRIDAY!